VeloViewer Race Hub and Epic Ride Weather
Ever wonder how UCI WorldTour teams manage the vast amount of information available during a grand tour or stage race? Many of them are using VeloViewer's WorldTour package with its Race Hub for pre-race planning and the VeloViewer Live App in the team car, which gives the Directeur Sportif (DS) a complete picture of the current race situation, enabling better decision-making in real-time.
I'm excited to announce that UCI WorldTour teams now have an even more complete picture of the situation by connecting Epic Ride Weather directly to VeloViewer Race Hub. With Epic Ride Weather, professional teams have real-time weather forecasting, including route-specific wind speed, direction and wind gust speed right in the team car during the race.
Epic Ride Weather hits that rare sweet-spot of providing not only the best forecast but presenting the data in the perfect way to give a cyclist or team all the information they need for any ride or race. I'm really pleased to have been able to work with Epic Ride Weather to provide a direct integration in their app for the teams that use the VeloViewer WorldTour package. These teams will now be able to list their full season of races from their VeloViewer Race Hub directly in the Epic Ride Weather app and get up to the minute weather forecasts for the day's racing at the push of a button.
– Ben Lowe, Founder, VeloViewer
Using Epic Ride Weather and VeloViewer Race Hub I'm able to give my riders very specific and detailed information about parcours and weather conditions that they will be facing out on the road.

Being able to forecast temperatures over the whole raceroute helps us to make specific plans for hydration and nutrition, while wind speed and direction forecasts play a big role in coaching the riders concerning their positioning in the peloton.
– Grischa Niermann, Sports Director, Team LottoNL-Jumbo
Epic Ride Weather combines GPS coordinates of the route with rider speed to chart weather conditions for the duration of the race. Epic Ride Weather uses the DarkSky API. With DarkSky's down-to-the-minute precision and incredibly accurate forecasts, this makes for unmatched awareness of conditions that could affect the race outcome.
DarkSky's approach to weather forecasting differs from your traditional weather service by applying machine learning (AI) with big data. This enables them to forecast weather at any specific location - not just at the nearest city.
For WorldTour Team LottoNL-Jumbo, Epic Ride Weather informs their race-day tactics and strategy. With their 3 stage wins and 4th and 5th overall at the 2018 Tour De France, multiple stage wins at the Tour of Utah, Colorado Classic and overall at the Tour of Slovenia, their approach seems to be paying off.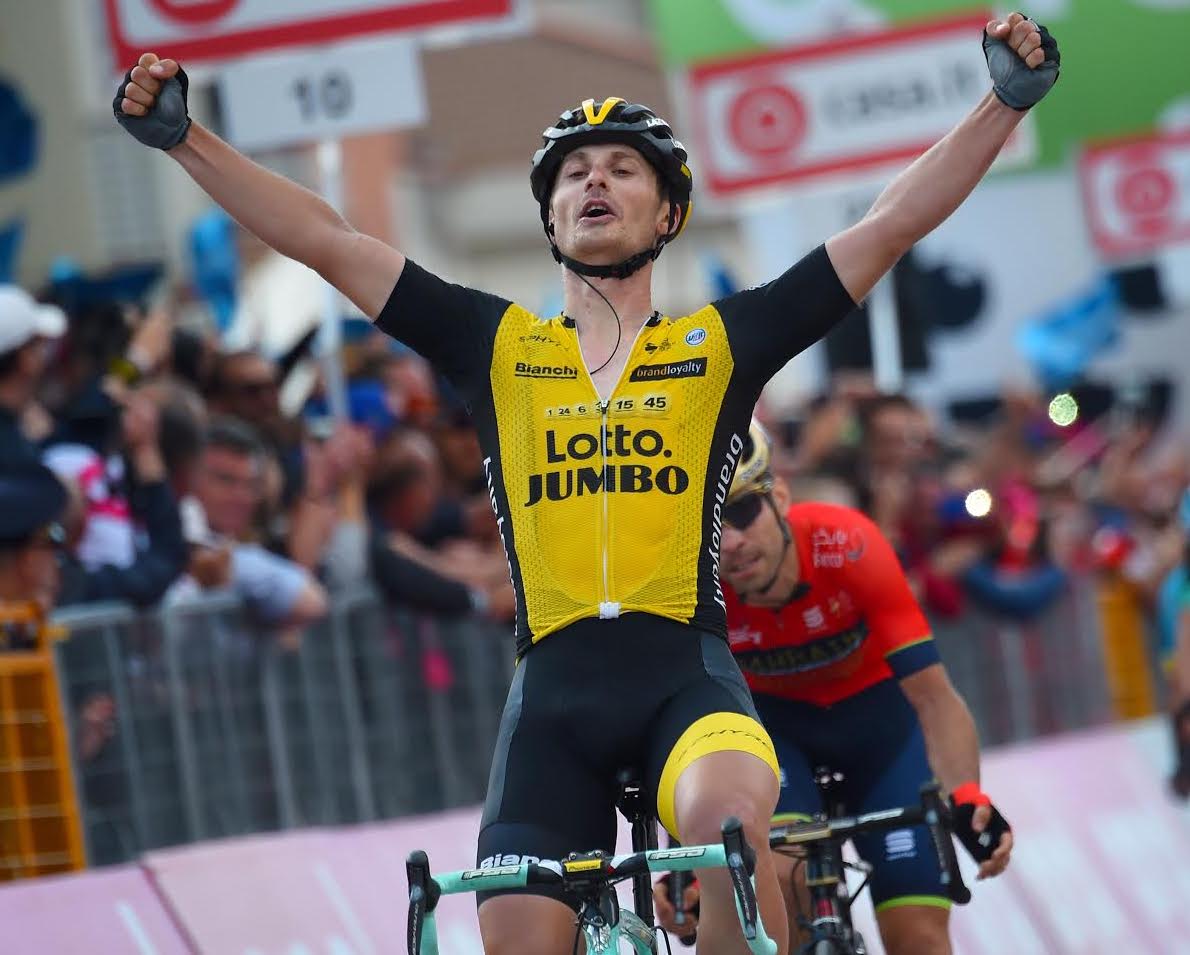 Enrico Battaglin wins stage 5 at the 2018 Giro D'Italia
Epic Ride Weather specializes in forecasting conditions for your routes and previous rides by connecting directly to cycling-specific apps such as Strava, Ride With GPS and Komoot. This makes weather forecasting for your next ride very personal - taking into account your pace and route so that you can be better prepared.
My goal is to make cycling better for everyone - so I'm thrilled to bring VeloViewer into the fold so that we can improve cycling for UCI WorldTour teams too.
share on twitter
Recent Posts
subscribe via RSS