Recent Forecasts and Search
Nothing makes weather forecasts quite as easy as bringing up a route or previous ride. It turns out that finding those routes quickly can be tricky if you're a sports director for a WorldTour pro team. I had an opportunity to discuss Epic Ride Weather with a sports director, who uses Epic Ride Weather to inform race-day tactics. This conversation inspired the latest release of Epic Ride Weather which brings you improvements that make finding routes much easier.
Recent
Added in this release is the Recent tab under Favorites. Rides and routes are automatically added to the Recent tab under Favorites as they are used within the app: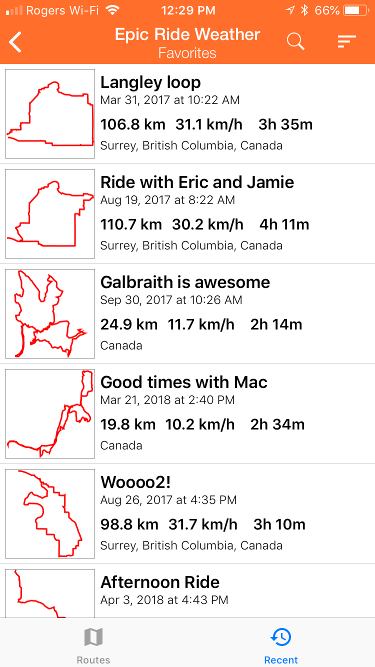 The most recently forecasted routes appear at the top of this list, much the same as your web browser history. This makes repeated forecasts for the same routes much easier.
iOS Quick Actions (a.k.a. 3D Touch)
On iOS devices, pressing deeply on the Epic Ride Weather app icon on the home screen will bring up a menu of quick actions. In this latest release, these quick actions include recently forecasted routes: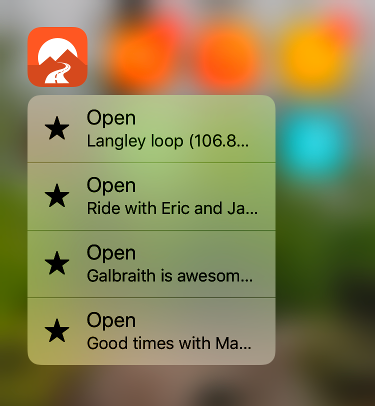 iOS Search
On iOS devices, Siri and Spotlight search can be used to find recently forecasted routes. Routes are searchable using keywords from the route name, route location (when available), the service that provided the route (e.g. "Strava" or "Komoot") and the words "epic", "ride" and "weather":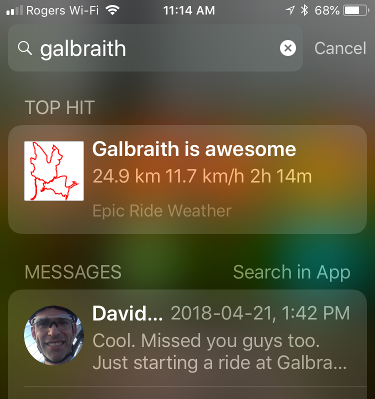 Enjoy this latest round of improvements, and don't hesitate to contact me if you have suggestions or feedback!
Epic Ride Weather takes into account your expected location based on your route and speed, combining multiple forecasts to give you a projection of weather over time and space. Epic Ride Weather is available now for iPhone, iOS and Android.
share on twitter
Recent Posts
subscribe via RSS