Forecasting Your Next Trip
Whether you're planning a bikepacking trip, epic road vacation, or going to Wollongong Australia for the 2022 Road World Championships, forecasting a ride in another timezone is easier than ever with this latest feature: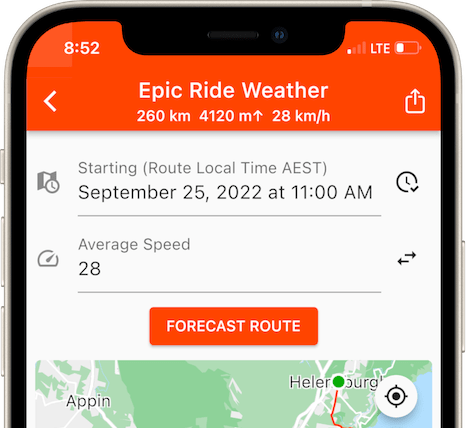 Epic Ride Weather now automatically detects the timezone of your ride. Date and time is selected in the destination timezone.
This feature was inspired by Sarah in New York, who said:
"I rely on Epic Ride Weather when planning bike trips in unfamiliar places or longer rides closer to home. The new feature that gives the forecast in the route's timezone is awesome! I also use the 'I'm on this ride now' feature for on-the-fly updates when my rides don't go according to plan!"
– A. Sarah Hreha, user since 2018
Thanks Sarah!
share on twitter
Recent Posts
subscribe via RSS