SteLa Tandem Around the World
I've had the sincere pleasure of meeting some fabulous people through Epic Ride Weather. Laura and Stevie are are planning a record breaking attempt to circumnavigate the globe on a tandem bicycle. What an audacious goal! I'm supporting them by providing Epic Ride Weather, which they use in their preparations and training to be safer, more prepared and have more fun. What follows is their story so far, in their own words:
Epic Rides Whatever the Weather
Long distance cyclist Laura and Stevie make up SteLa tandem, with record breaking ambitions to cycle around the World next year.  In the meantime, they have been out an about this year…whatever the weather…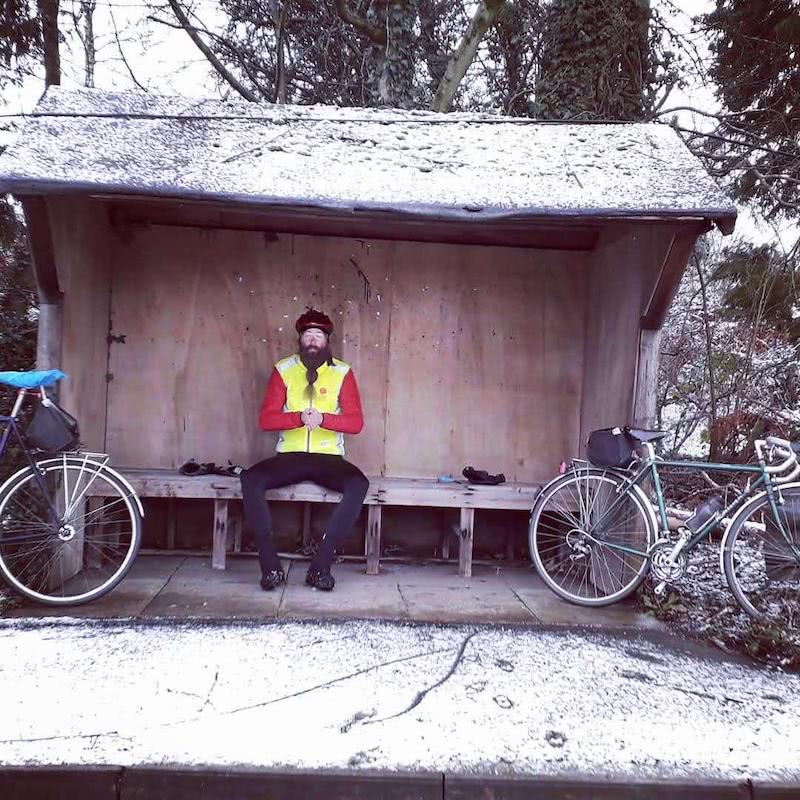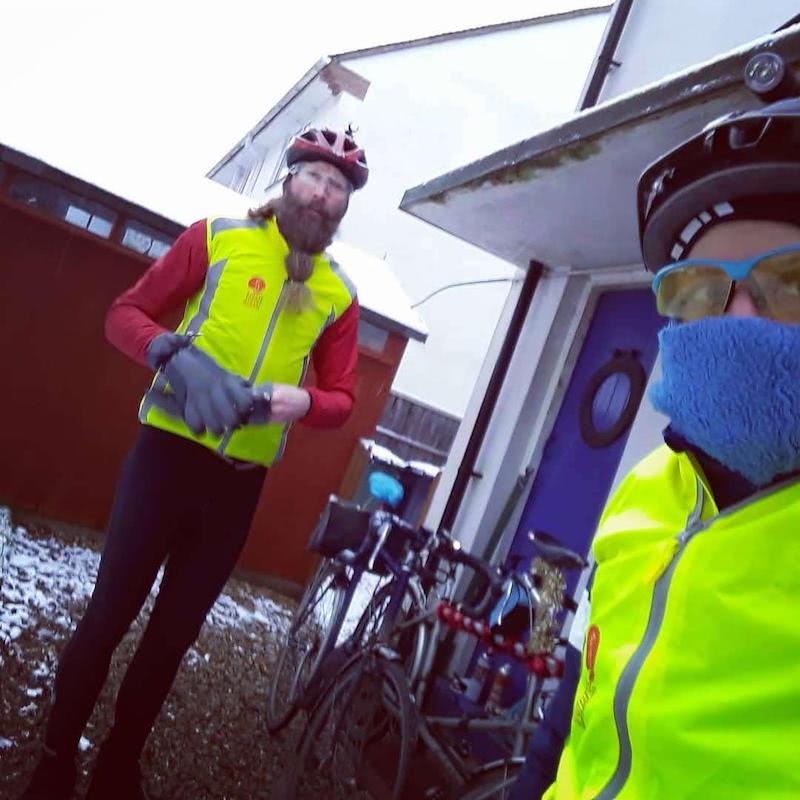 Photos: some early season riding…
Ideally, we would be using our Epic Ride Weather App to predict when will be the best weather to go out on our bicycle made for two.  Light breezes (ideally behind us), light sunshine (but not too hot), no rain (or if so when expected, with plenty of chance to dry off) and consistent temperatures between day and night… who am I kidding!
Living in the UK our climate can be described as "variable" and "frequently damp", combined with the restrictions of fitting in rides around a full-time job and when our longer rides take well over 24 hours it extremely unlikely we're going to get the best of the weather.
Ahead of our epic ride next year, one of this year's goals was to complete a "Super randonneur" series. A Super randonneur series is an award from Audax UK, the long-distance cycling association where to be successful you must ride 200km, 300km, 400km and 600km set course in certain time limits in the same season.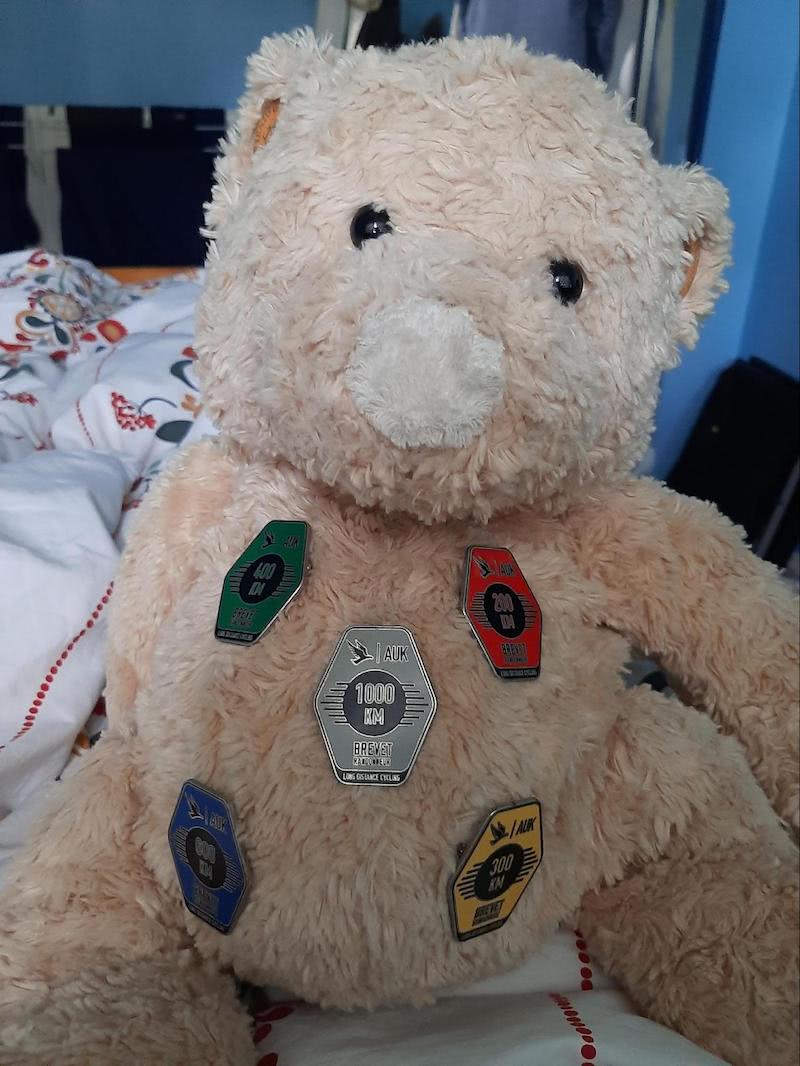 Photo: Brevet bear, showing off his Super Randonneur series medals!
We started ambitiously in May, in some years this is a completely reasonable month to ride 200km in the UK.  In 2021 it wasn't.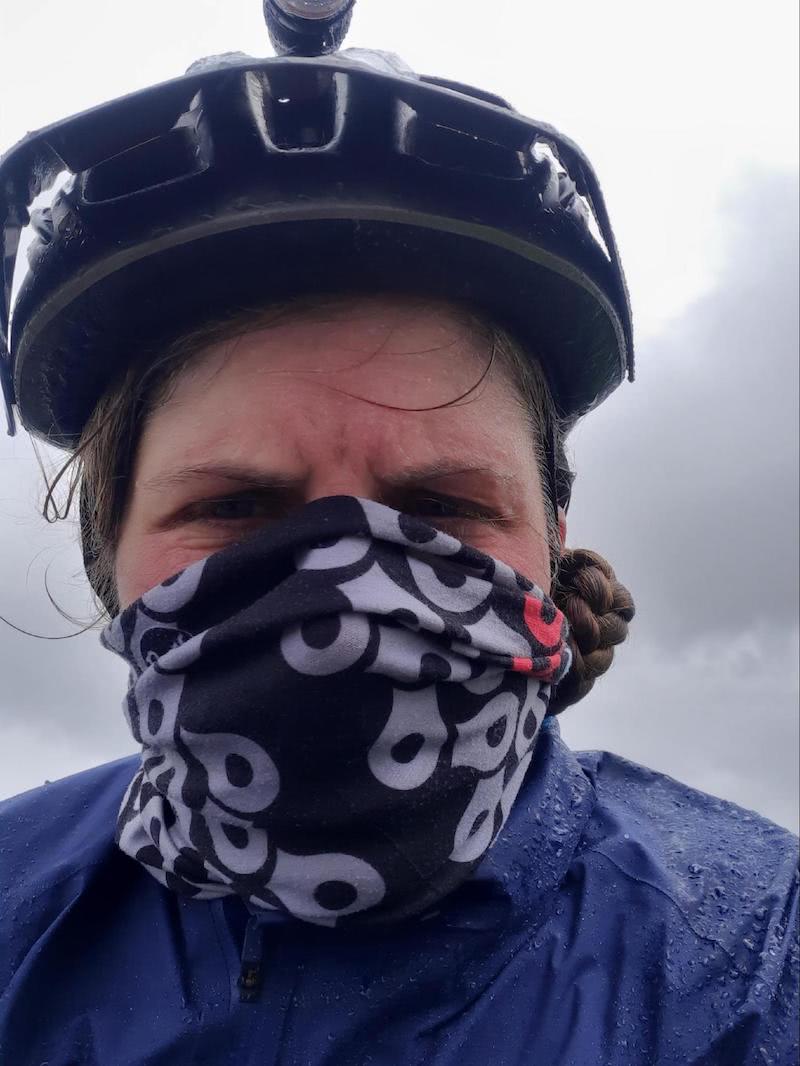 Photo: Extreme weather in May!
A long and bitter winter dragged out well in to May with hail showers and high winds featuring in just about every ride and our 200km was no exception. We were riding an event called "Flashy Venetian" as what is known as permanent event which means we can ride the course, passing through the set controls on any date we chose.  Our options for dates however were limited to free weekends and even though the forecast from Epic Ride Weather gave us fair warning and luckily ensured we took that all-important extra layer it was still hard to believe how bitterly cold it was until we were in it!  With lockdown still in place there were no cosy cafes to warm up in and we had pavement picnics in the cold wind and stops were minimal.  In the last quarter of the ride, we climbed up to the namesake of the ride: the Village of Flash, highest village in the UK.  Just at this point the overcast skies grew darker and the wind picked up and just as we reached the summit, we were pelted with ice hail, me sheltering behind Ste on the back of the tandem whilst he struggled to see the road ahead through narrow country lanes.   We dared not stop now for fear of getting too cold and battered on through the weather heads down and braced against the elements. We passed an isolated farm house where the shocked farm wife couldn't believe we were headed for the next main town 30km away… we dared not tell her we had already cycled 180km!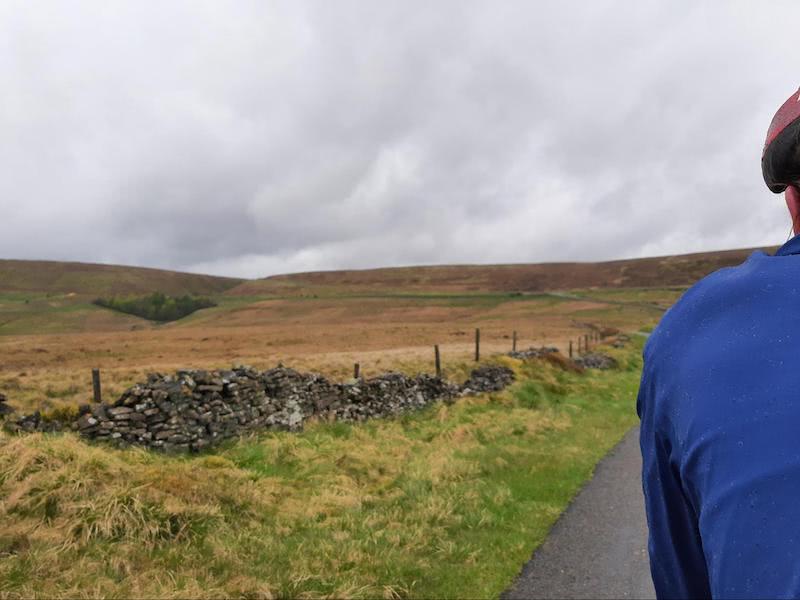 Photo: Exposed moorland with no shelter form the elements!
Ride video: Flashy Venetian Permanent Audax
Come June we were more optimistic about the weather for our 300km ride.  This time a calendar event so the date was set and we were starting off with other riders on the day.  We were delighted to see the weather was mostly looking good though with only rain in the last 20miles- what a breeze!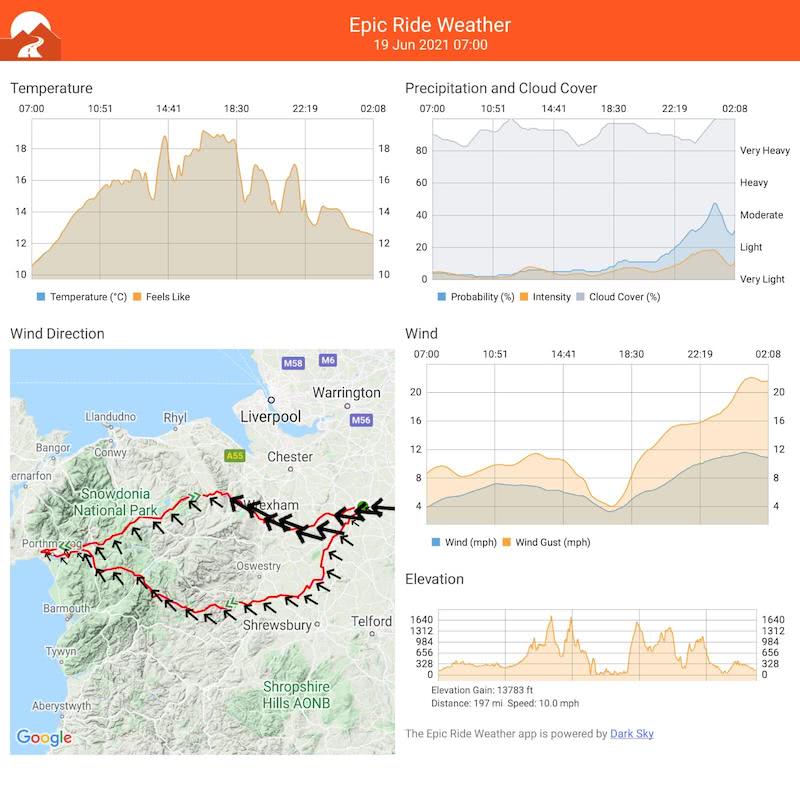 It was pleasantly warm and as much as we sweated over a very hilly course through the North of Wales, the beautiful descents to picturesque valleys cooled us down beautifully.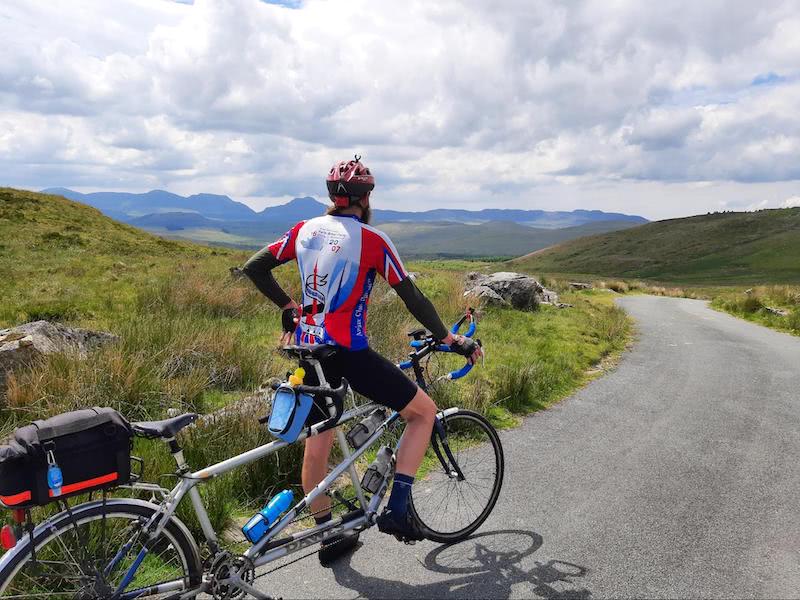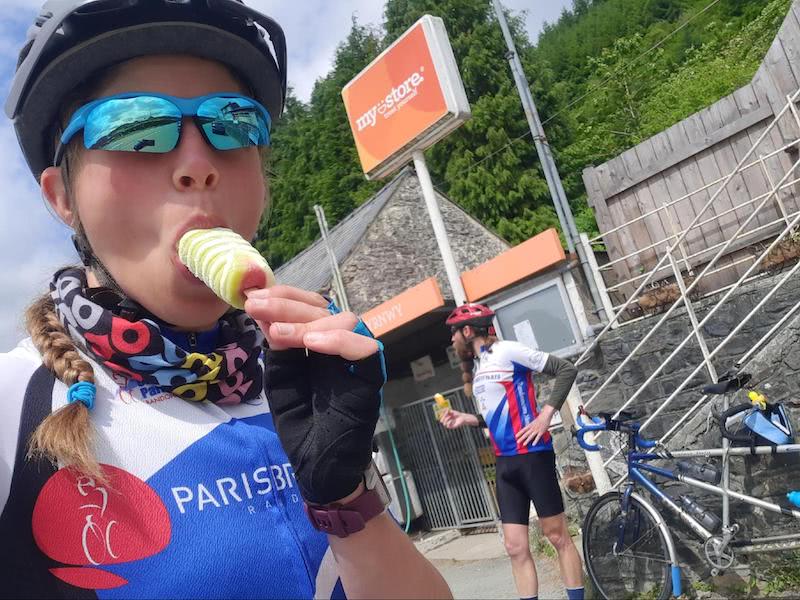 Photo: Ice cream weather!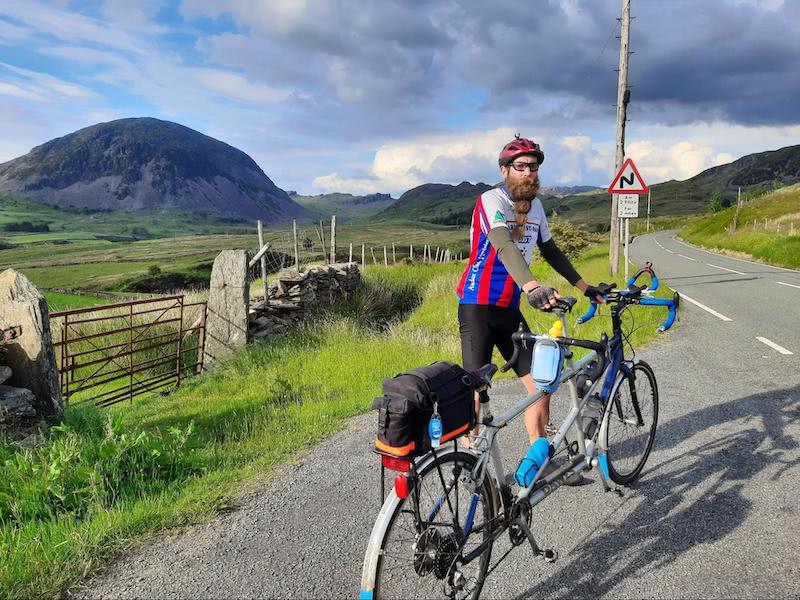 We rode away from the sunset and the temperature cooled as expected and we layered up ready for the night shift.  We had also made the mistake of not checking the weather again after we left- which is easily done on the Epic Ride Weather app on our phones so it not unexpected when it started raining, but it was when it started raining harder and harder.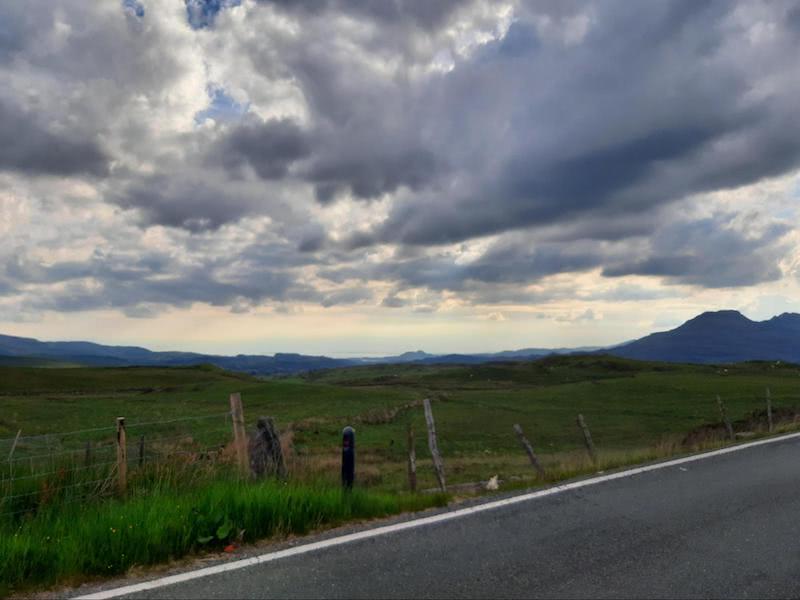 Photo: Weather coming in
 The last 20miles were absolutely miserable, dark and slippy roads testing Stevie's captaining skills on the front of the tandem to the max and me trying to stay sheltered and warm on the back- we really thought we had got away with it this ride! We rolled in soaked through, literally everything on us was soaked and puddles formed under us wherever we stood.  Because this was an organised calendar event our sense of humour was saved with steaming pot noodles and cups of tea!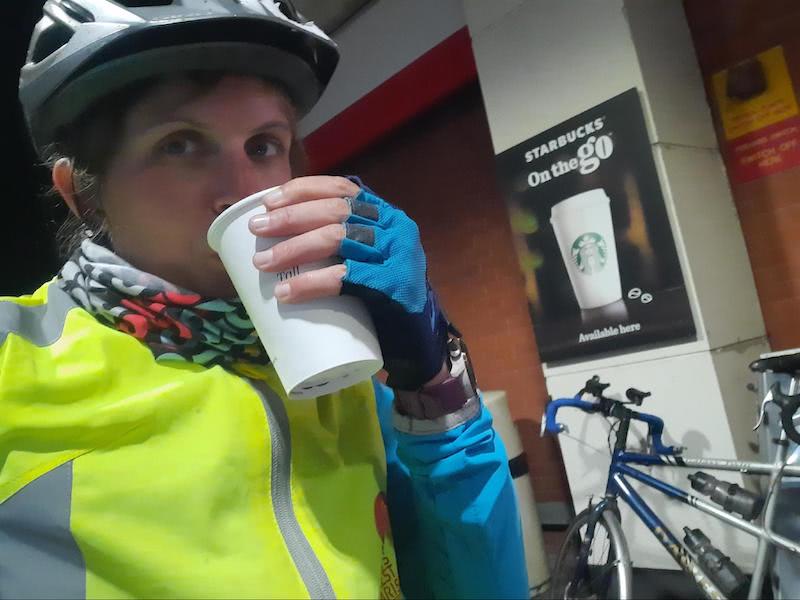 Photo: Big change in temperatures on the 300km
Ride video: It's Just Not Criccieth 300km
By this point in the year, we were starting wonder if Summer would every happen (it usually does in the UK…) and were watching the forecast closely in the run up to our 600km calendar event in July.
We parked up our campervan on a balmy Summers evening the night before the event on Wimbledon Common in London and things were looking good- high 20'c temperatures and not a drop of rain was predicted according to Epic Ride Weather.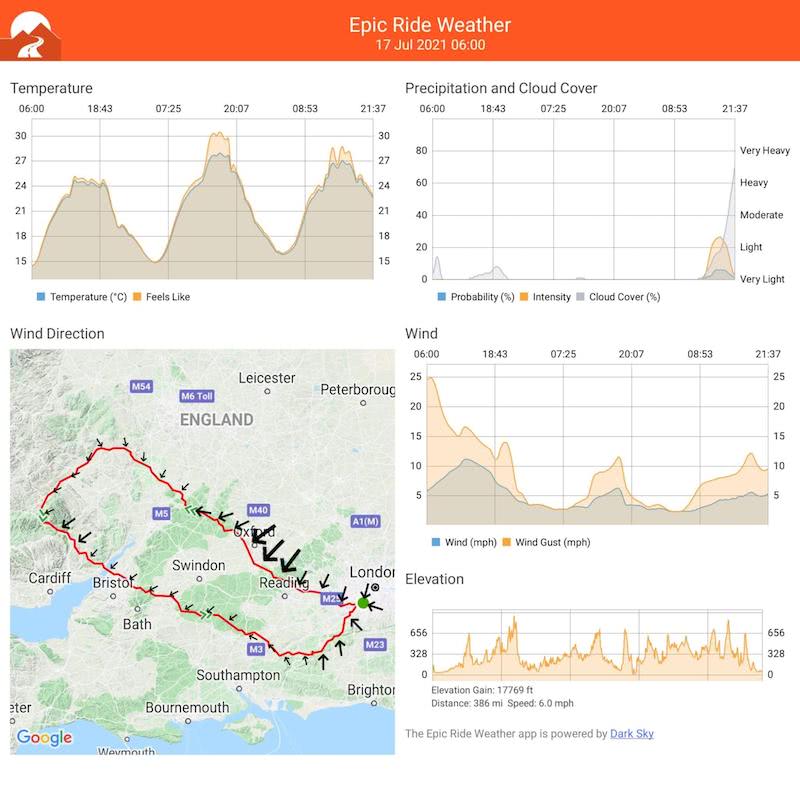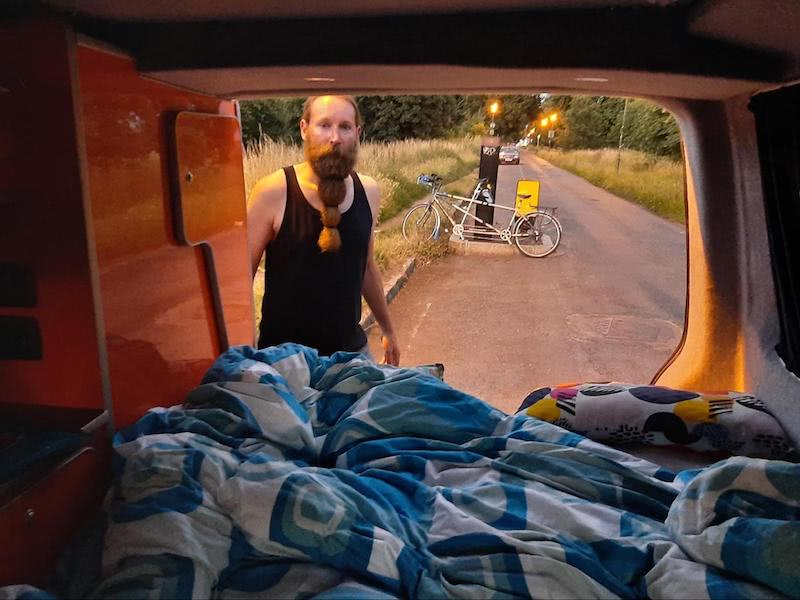 Photo: Wonderfully warm morning at Wimbledon Common
I packed a few electrolyte tablets as a precaution, but we also packed extra layers for the overnight.  There was no organised overnight control so we have decided to wild camp, or rather bivvy where we could.  The first day was baking hot and it was a shock the system to finally have some good weather.  We were draining the water bottles as quickly as we could fill them and the electrolyte tablets were quickly used, especially as poor Stevie has some digestion issues so replacement of salts was essential to keep us healthy.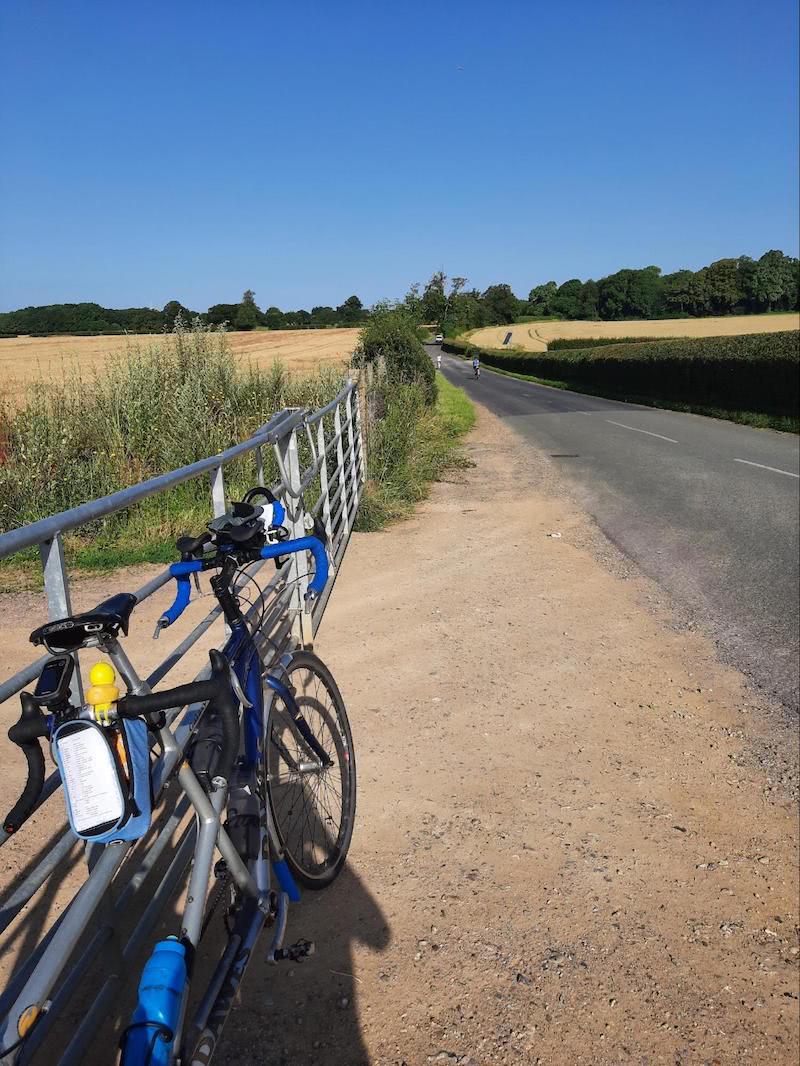 Photo: Scorching hot day 1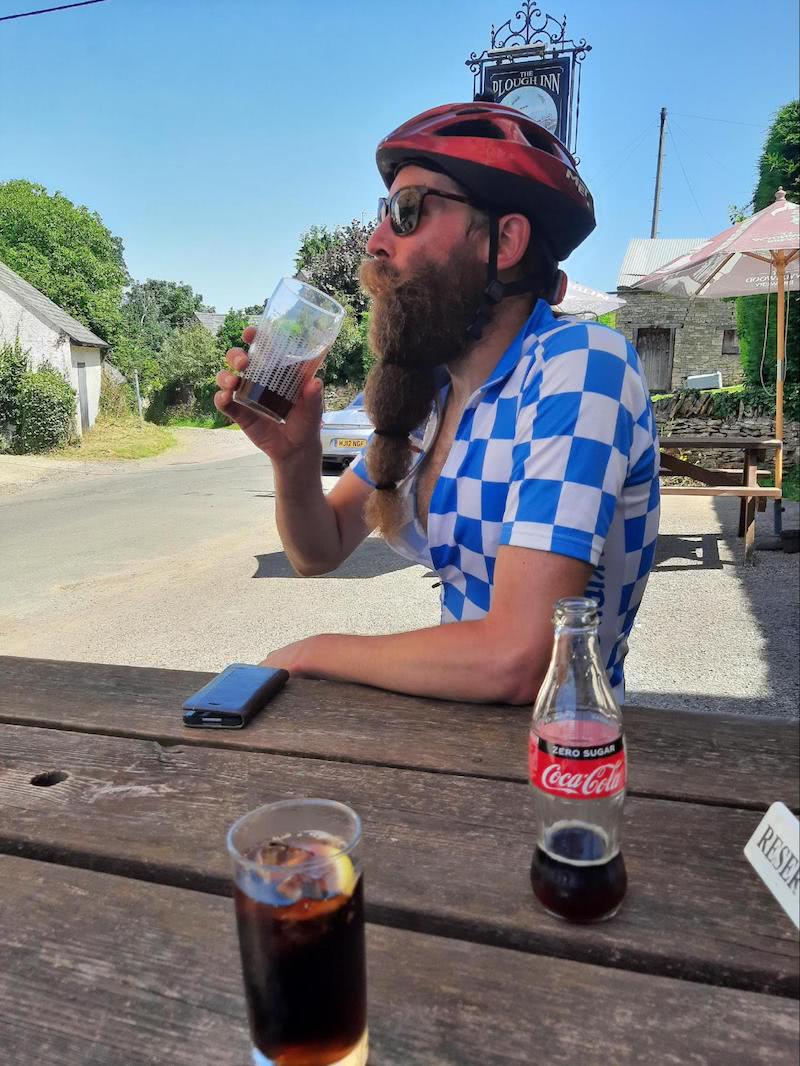 Photo: Cooling down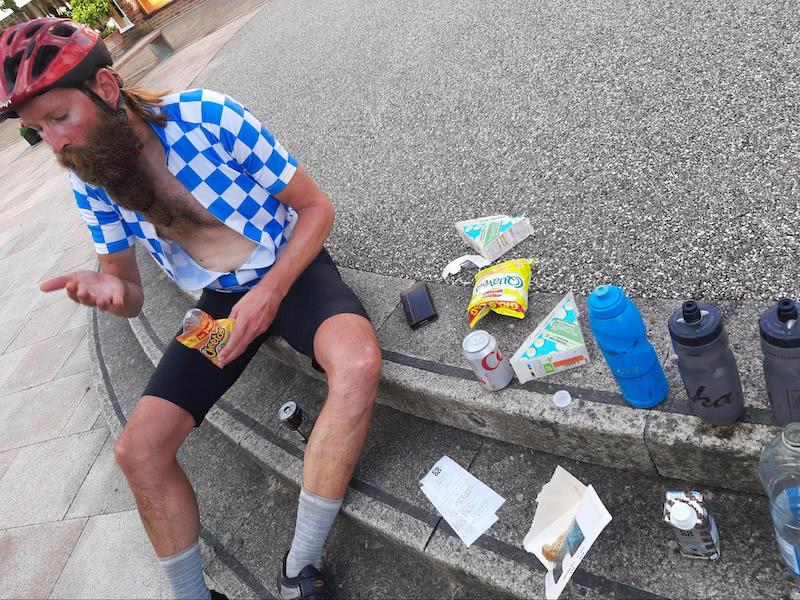 Photo: Salt and fluid replacement
We move onto shop bought electrolyte drinks and salty crisps to keep our levels up but it was a shock to the system and a stark reminder that hot weather can cause as many challenges as cold.  If finally cooled off about 10pm at night and then bivvying down at 2am it was cool enough to need all the layers we had bought.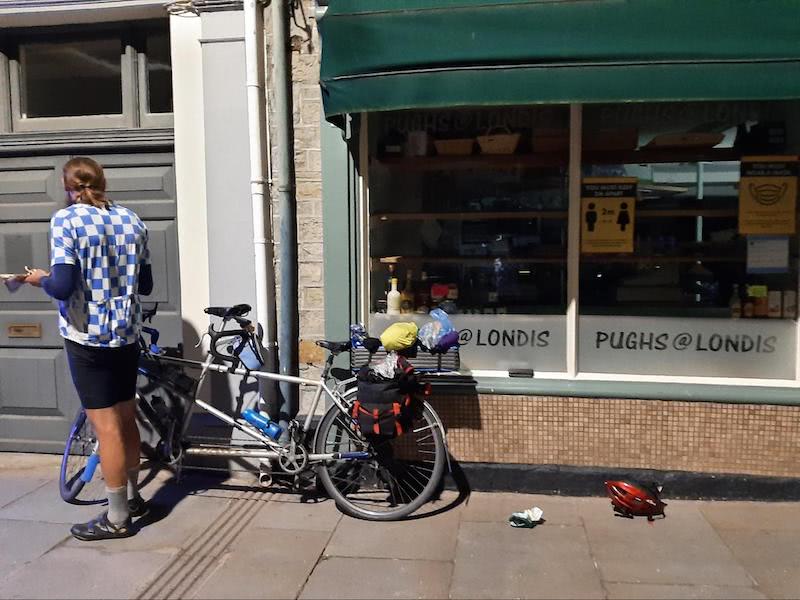 Photo: Still hot at 10pm!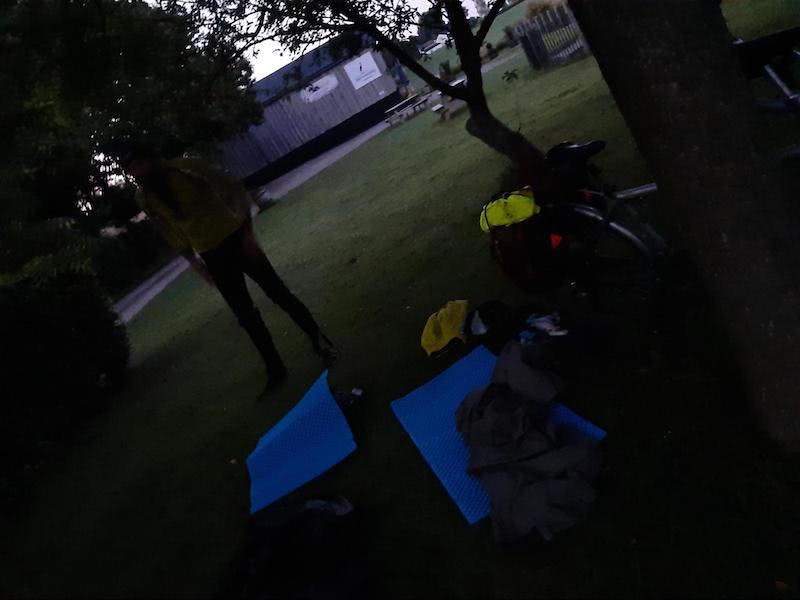 Photo: Bivvying for a few hours
Waking up again at 4am there was dew on the ground and our bivvys and we got moving quickly to warm up.  Riding through the Wye River valley in the early hours the mists came in patches off the river creating micro climes of cold damp early in the dawn light.  It was beautiful but chilly enough to keep us fully wrapped up until we got second breakfast at a motorway service station.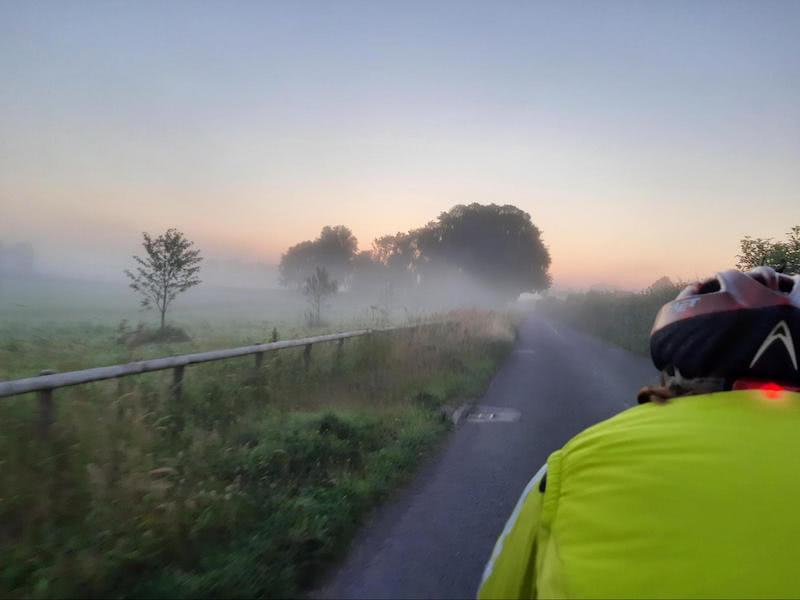 Photo: Dawn in the Wye Valley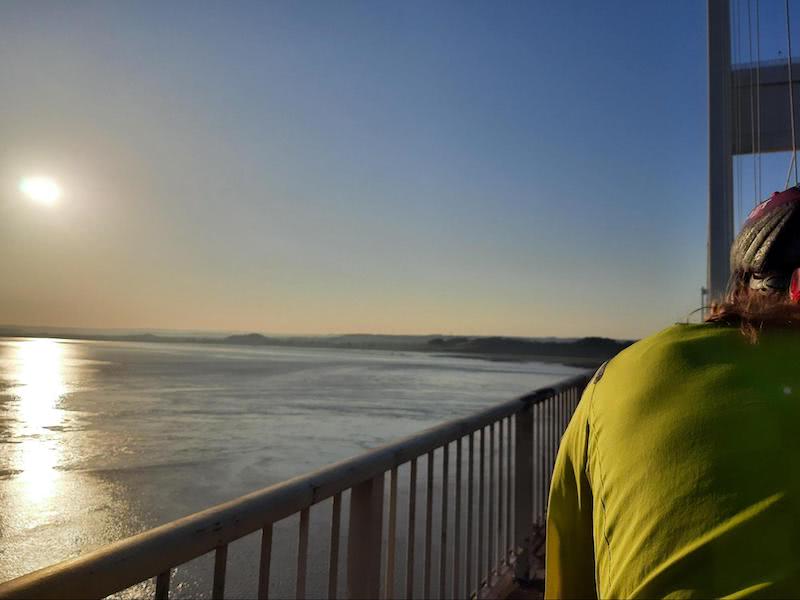 Photo: The Severn Bridge on the way back from Wales
The next day was set to be another scorcher and soon water and fuel levels became a priority, as the heat hit its zenith my water bottle was onto its last dredges and I was melting in the heat.  We made an emergency stop at a pub and cooled down with cool pints of diet coke and I surreptitiously cooled down in the ladies with wet paper towels.  Refreshed enough we rolled onto the next village shop for pavement picnics of cold spaghetti bolognaise from a tin, crisps and pasties- hey you've got to go with your gut on these rides!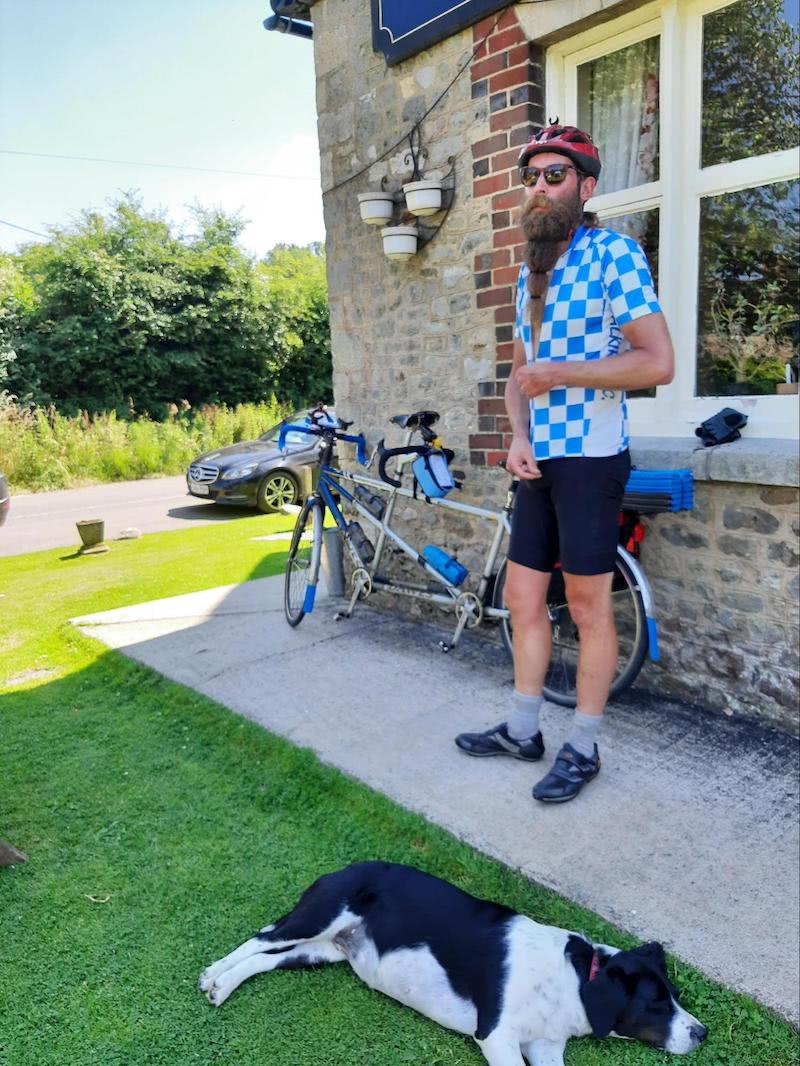 Photo: Too hot for some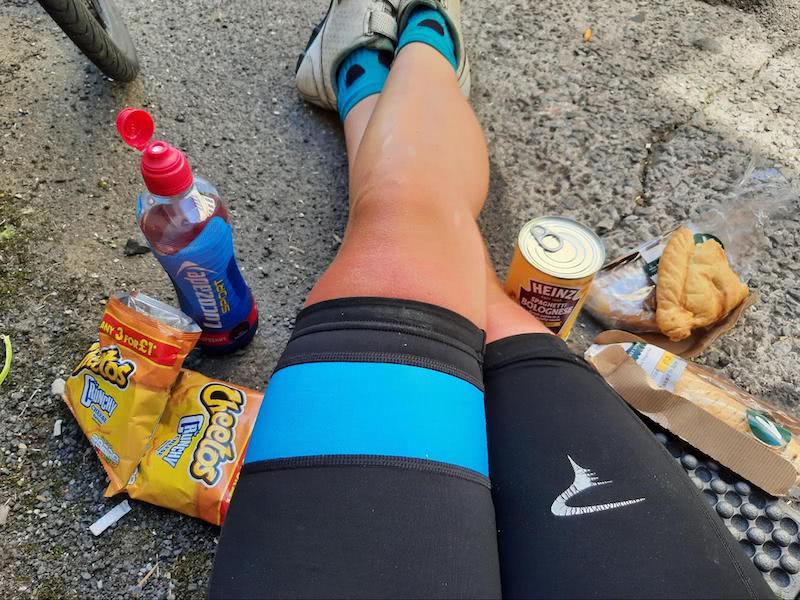 Photo: Pavement picnics
We made it round and rolled in to the control while it was still warm enough for a beer that evening, and that was 3/4 of our SR series done!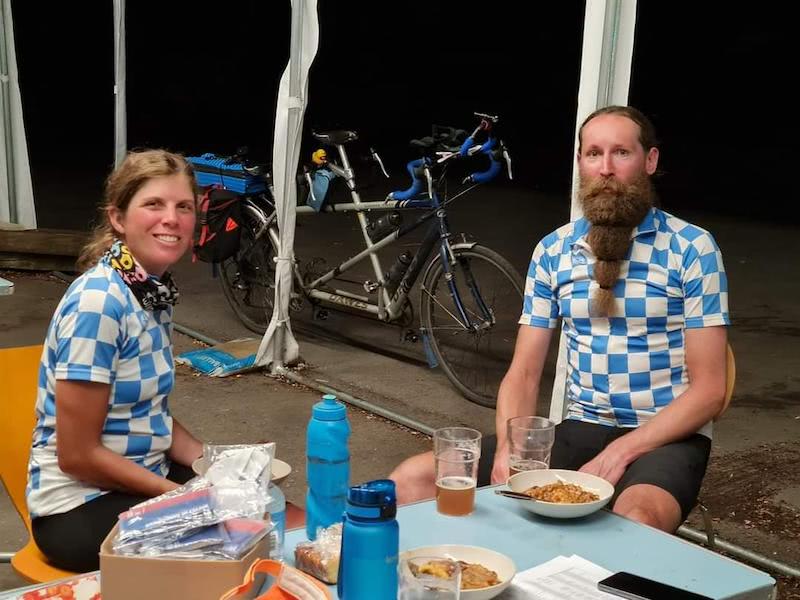 Ride video: Wander Wye 600km Audax
But last but not least was my least favourite event- the 400km.  This is because at the speed we ride we go straight through the night, with a few minutes closed eyes on the side of the road… The weather was definitely looking more variable this time and even though we were riding this as a permanent event there was one weekend set aside in August where we could complete it and have enough for me to get back to work on Monday morning.  Watching Epic Ride Weather like a hawk it was obvious the showers were going to be unpredictable but it looked like a best-case scenario in terms of strong winds: headwinds out, tailwinds back!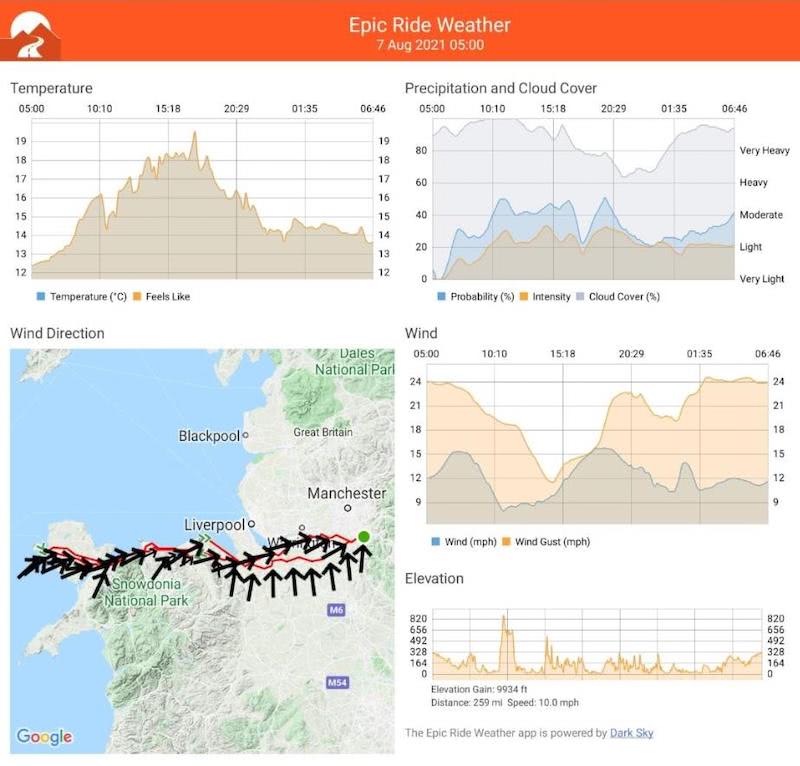 We started off dry but as we hit the North coast the showers started but with just enough time to dry off a bit in-between (but not quite enough to stop Stevie having to wring his socks out!) and the interludes between the showers showed blue seas and a picturesque coastline.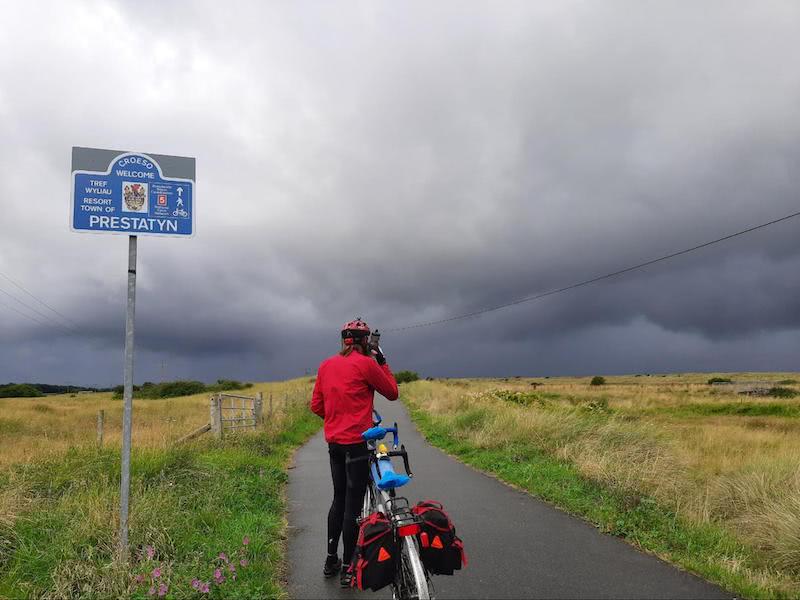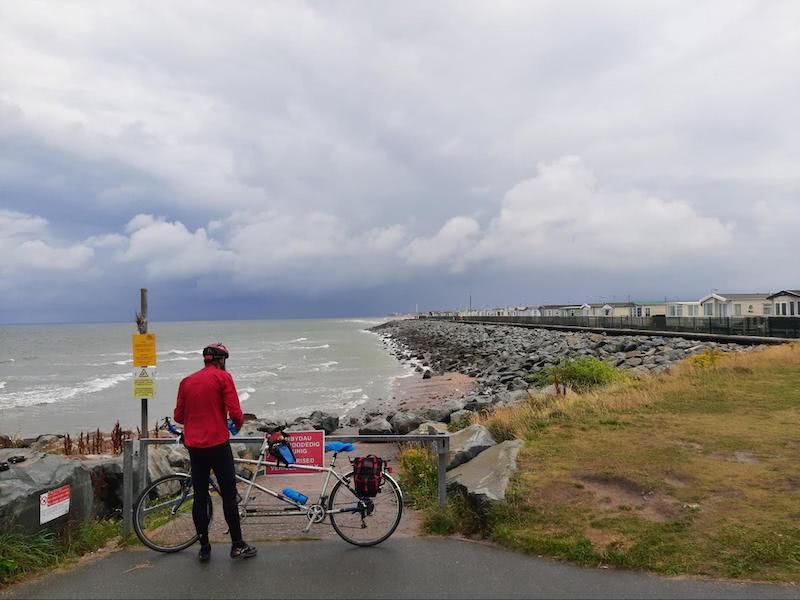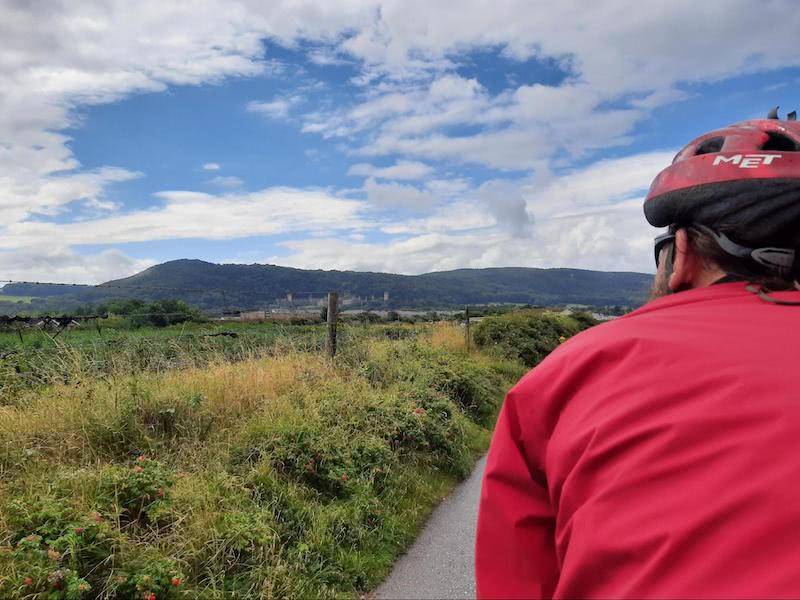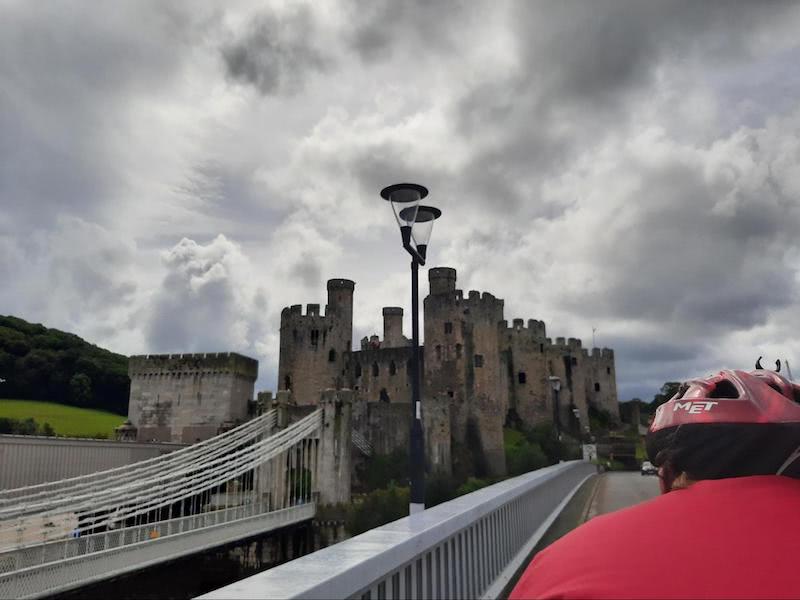 Photos: All the Different weather along the North Wales Coastline
We were heads down on the way to the Isle of Anglesey and then beat against a stiff headwind across the exposed isle to Holyhead on the far coast.  On leaving the takeaway chicken joint we had stopped for dinner the skies looked suspiciously dark for the early evening and soon the downpours started… but tailwinds prevailed! We were gusted across the isolated Isle with showers chasing us on the way to the famous Menai bridge at sunset and crossed on into the night.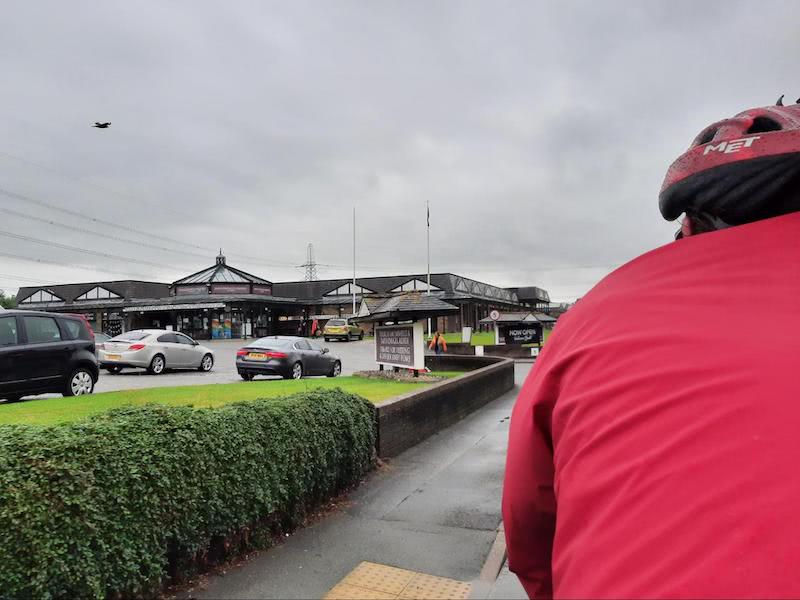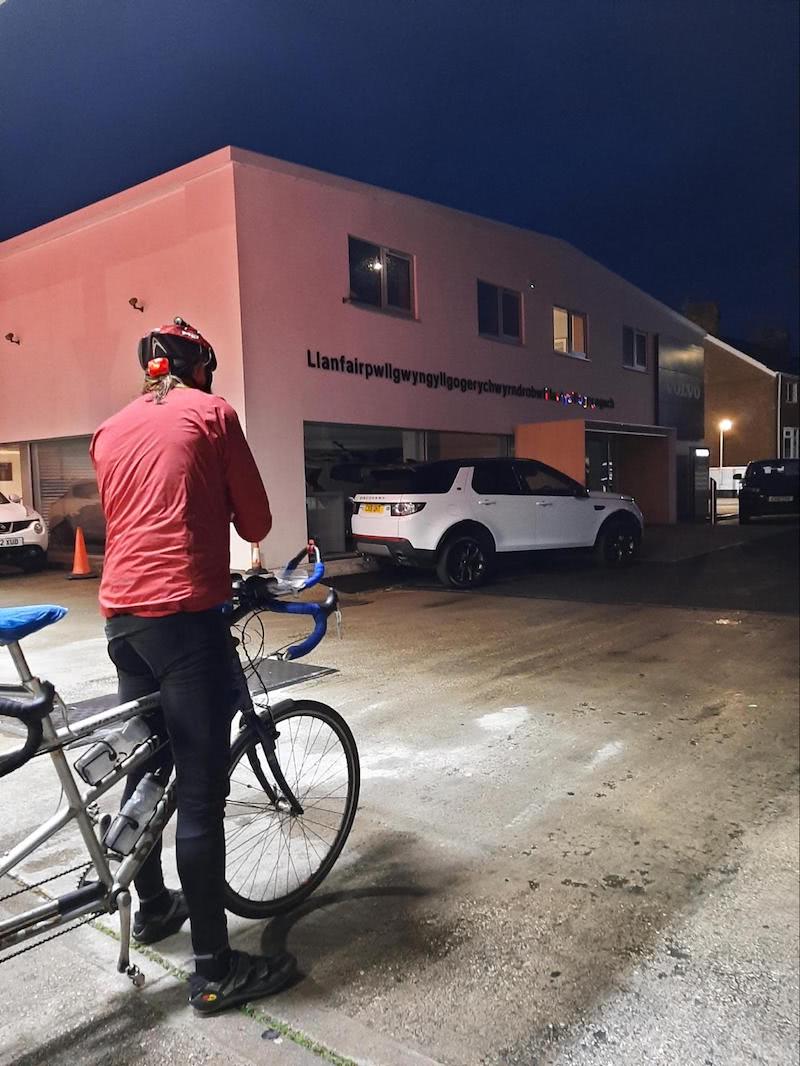 Photos: Out and back from Llanfairpwllgwyngyllgogerychwyrndrobwllllantysiliogogogoch, the village with the longest name in Europe
The night ride was equally spurred with tailwinds and hindered by showers and as dawn broke the former relented and the rain set in- another severely damp finish! The roads were quickly submerged by the unexpected summer deluge and at one point the localised flooding engulfed the bottom of out panniers and was well over our pedals "keep going" I shouted to Stevie, scared that if we stopped now, we would be knee deep in puddle!
Reaching the campervan 27 hours after we left it the wet gear bags rapidly came out to decant our sodden clothing and we collapsed thankfully into the campervan bed having had 20 mintues sleep in the past 27 hours, finally warm and dry and accomplished in the knowledge that we had worked with, competed against and sometime rejoiced in what can only be called Epic Ride Weather to complete our super randonneur series!
Ride video: Llanfair PG 400km perm
To hear about our biggest adventure yet visit us at www.stelatandem.com and on social media to follow our record-breaking tandem ride around the World!  A massive thank you to Epic Ride Weather for supporting all our crazy long-distance adventure.
share on twitter
Recent Posts
subscribe via RSS