Strava Segments by Tailwind
Strava segments can light a fire in my belly on almost any ride. When you're feeling good and you know that segment is coming up, it's hard to resist the urge to take it at full speed. How awesome would it be then to have the tailwind at your back?
With that spirit in mind, I'm excited to announce that the latest release of Epic Ride Weather has introduced support for Strava Segments. Not only can you get highly personalized forecasts, but Epic Ride Weather will rank your favorite Strava segments by current weather conditions, those with the strongest relative tailwind shown first.
Video: Strava segments ranked by tailwind using Epic Ride Weather
By ranking Strava Segments based on wind strength and yaw angle of the wind relative to each segment, Epic Ride Weather gives you the best chance at beating your PR.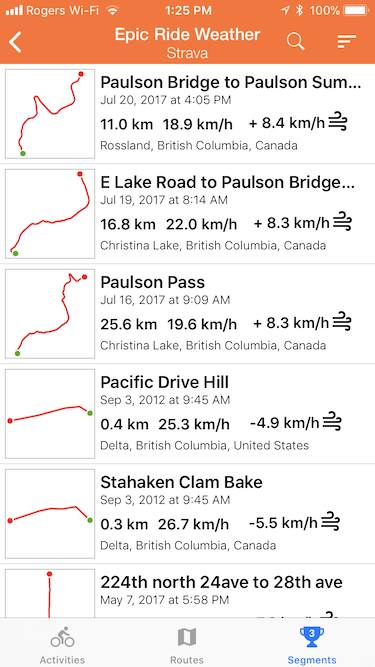 This latest addition to Epic Ride Weather is inspired by conversations with the cycling community. Thanks to Jonathan, Ryan, Étienne, Lucas and Patrick for your excellent feedback!
Epic Ride Weather takes into account your expected location based on your route and speed, combining multiple forecasts to give you a projection of weather over time and space. Epic Ride Weather is available now for iPhone, iOS and Android.
share on twitter
Recent Posts
subscribe via RSS