Wind Forecasts for Cyclists, Improved!
We may not be able to redirect that punishing headwind or conjure up a powerful tailwind for your next ride, but we can improve wind forecasts! The latest release of Epic Ride Weather has been fine-tuned to make wind strength and direction easier to take in at a glance.
Epic Ride Weather wind forecasts now depict predicted wind speeds with varying arrow sizes. Larger arrows correspond to stronger winds, and smaller arrows correspond to lighter winds: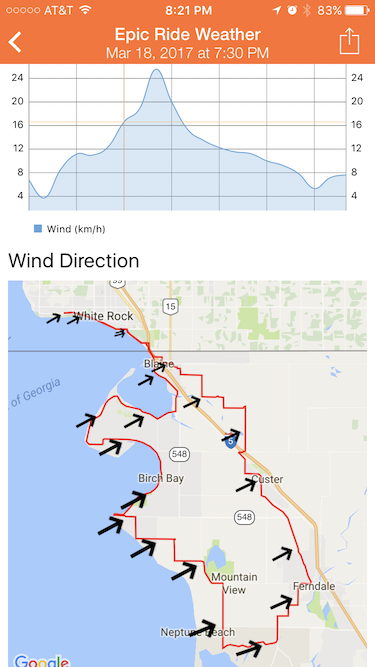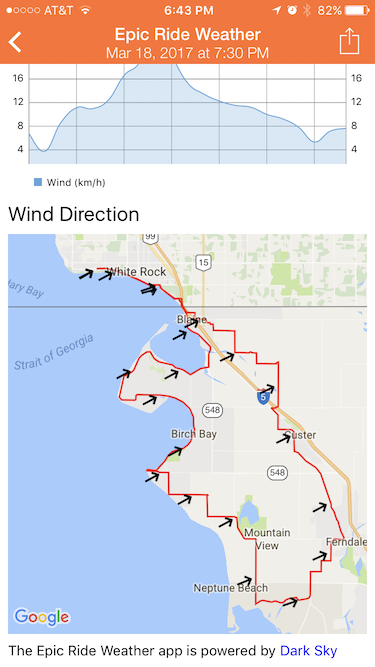 Higher wind speeds are shown with larger arrows
The left screenshot above shows arrows corresponding to wind speed and direction. The right screenshot shows the exact same forecast with the previous version of Epic Ride Weather, with arrows only showing wind direction.
This latest installment of the Epic Ride Weather app comes to you courtesy of suggestions and excellent feedback from Gary and Juan Jose. Thank you both!
Don't hesitate to reach out to me directly if you have ideas, suggestions or feedback! It's ideas from people like you that help to improve Epic Ride Weather. Email David Green at david@epicrideweather.com
Epic Ride Weather takes into account your expected location based on your route and speed, combining multiple forecasts to give you a projection of weather over time and space. Epic Ride Weather is available now for iPhone, iOS and Android.
share on twitter
Recent Posts
subscribe via RSS