Epic Ride Weather Launched for Android
I'm happy to announce that today the Epic Ride Weather app was launched for Android.
Epic Ride Weather provides a unique approach to weather forecasting for cyclists. Using a route from Strava, Runkeeper or GPX file, Epic Ride Weather provides forecasts for temperature (actual and feels-like), precipitation (probability and intensity), wind speed and direction for the duration of your ride.

The magic in Epic Ride Weather is the use of GPS data and timing information from your previous ride. Based on this and a ride start time, we can produce forecasts for every 10 minutes of ride time at the precise location that you'll be.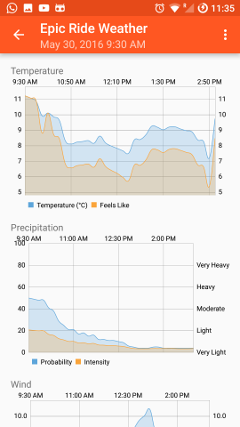 Overall I'm getting out more often, I'm hitting the best weather for my area, and I'm more prepared. This translates to a more enjoyable ride every time. I'm able to answer questions such as:
Should I start early to avoid the heat of the day?
On that early leave, will I need arm warmers?
Are two water bottles enough, or will I need more?
Should I be prepared for heavy winds on the back leg of the ride?
Will I be able to miss the rain if I take this or the other route?
In short, Epic Ride Weather has really improved my cycling life.
Epic Ride Weather uses the Dark Sky API, which provides some of the best forecasts available. You can find out more about Dark Sky and their approach to forecasting from their site and from their blog.
Epic Ride Weather is available on Google Play. Enjoy!
share on twitter
Recent Posts
subscribe via RSS